May 2016: I went in for a simple procedure and came out with what we thought was a reaction from anesthesia. In reality, it was dilated cardiomyopathy (DCM) & heart failure becoming fully symptomatic in a short period of time. I spent the following 3 days in & out of the ER to treat symptoms as they came up. During my 2nd ER trip, the nurse practitioner (who happened to be a friend) saw that my heart didn't look right on a x-ray and suggested I see a cardiologist. I ended up in the ER for a 3rd time and was admitted to the hospital. After 2 weeks, I was stable enough to leave but still without a diagnosis. I was readmitted after a few days, this time to the Houston Medical Center. They ended up doing a heart cath before I got into a room to check out my heart. That's where we got my official diagnosis. I was still in recovery being told at 32 years old that I had DCM & end-stage heart failure. Before talk of medications or treatment, they talked about Left Ventricular Assist Device (LVAD) or a transplant as the best treatment for me.
Over the next 3 years, I saw 3 different cardiology teams. I tried different medications and routines. None improved my heart function or quality of life. In August 2019, I was given 6-12 months to live without any interventions. On September 4, 2019, I went in for a right heart cath and came out being told I wasn't going home. My heart was too weak to keep me alive. I was very resistant to the idea of a LVAD but agreed to start the testing. I got my LVAD 20 days later. Over the following 18 months, I lost 140lbs so I could reach the BMI goal for transplant.
I got my transplant March 3, 2021!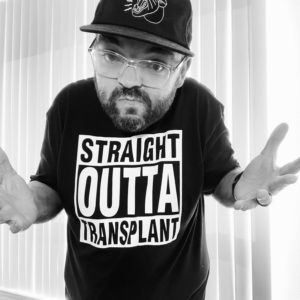 Share the story