I have been a healthy person my entire 26 years of life. My first child, Aaron was born in July 2014. I write this with the help of a journal my mom kept because I don't remember much after becoming sick.
November 25, 2014 I went for a routine physical and blood work… coincidentally, That week my stomach became upset. November 30 my husband noticed my eyes and skin looked yellow. Dec 1, I called my Dr to tell her of the jaundice and she informed me my liver enzymes were elevated. She called a Gastrointestinal Dr to get another opinion. I went to see him the next day. Dec 2, I had an ultrasound of my liver in the morning then went to see the GI Dr. He examined me and asked me ally of questions, then decided to repeat labs.
Dec 3-4 I started feeling nauseous.
Dec 5 GI Dr recommended Liver Biopsy for that Monday morning.
Dec 8 Mom, Shawn, Aaron and drove an hour away and I had the Biopsy. They told me I couldn't lift my son for 2 weeks.
Dec 9-11 While waiting on the results Shawn took off work to take care of Aaron and I.
Dec 11- Mom came and got Aaron and I after work to go stay the weekend with them.
Dec 12-13- I started going down hill, had no energy and by the 14th I couldn't keep anything down.
Dec 15- Mom called GI Dr first thing to report my condition and try to get results of biopsy. They advised Mom to take me to ER. I remember kissing Aaron and telling him I loved him and that mommy had to go find out what was wrong with her and get better. At the ER I was brought back quickly. Had hard time finding a vein and had to use ultrasound. Results from biopsy showed signs of autoimmune hepatitis and that it was treatable with steroids. When blood results came back at ER Dr Aurora pulled my mom out of the room. I remember being confused and thinking it must be bad if he did that. My mom look terrified and I told them I wanted to know what was going on with me. He told her I was in acute liver failure. He suggested to move me to UT Southwestern in Dallas where I could be better cared for. I was transported and mom rode with me. ICU staff greeted me, the hospital was only a week old. Dr B who was treating me told us the plan to try steroids but prep me for a transplant in case. She told my family that if I start to go downhill it will be quick, she told them I would begin to experience strange emotional changes, disorientation, anger, then my organs would start shutting down. That is exactly what I remember during that time. They continued running every test imaginable and mom says I was a trooper. My levels continued to rise and 11:30pm I was placed at the top of the waiting list.
Dec 16- "Levels continued to rise and by 2:30 we got the call. They found a liver. God is so good! 15 hours of being on the waiting list and getting a liver is unheard of. Even the hospital staff is amazed! The donor is a 50 year old women- 2 hours away." -Mom Around 9:30pm confusion set in. They took you off liquids and disorientation set in.
Dec 17- They came and got me around 2am for surgery. You were really starting to go downhill. I focused on your O2 levels bc they said as long as you stated above 90 they wouldn't have to intubate you. I knew you were on the verge- your kidneys were next. Luckily you were strong enough and held on. All I remember from this day is when I was in an elevator type room a lady was standing by me and she reassured me everything was going to be ok. I just asked her to promise me I'd see my son again. (Looking back now, that women greatly resembled my grandma that passed away in 2009.) At 10am Surgeon came out and said I did great and they were going to leave me sedated and incubated to give liver a chance to get used to its new home.
Dec 18 I had to be opened back up and "cleaned out" due to bleeding and excess fluid. This happens in about 1/3 patients. This took about 2 hours. Gave small samples of old liver for research bc they said what happened to me was so rare. I went from 3 drains to 1.
Dec 19- Did great coming off the vent. I remember as they were leading up to taking me off all I could think about was that I wanted ice chips- so bad. I felt people holding my hand. My mom kept saying I know a little longer, but I kept thinking, No. I want ice chips! Come to find out she knew exactly what I wanted all along. 🙂 Also, I wish so much I had a picture of myself when I was on the ventilator. my mom wanted to take a picture but my husband and dad didn't want her to. looking back now she wish she would have because we think it would have made it more real for me.
Dec 20- Today they took off my bandages and I saw my "Mercedes cut" for the first time. I thought it looked like a peace sign. PT got me up in the chair.
Dec 21- Began walking with a walker, it was hard work!!
Dec 22- Moved into a regular room. Fluid was found around my lung so Drs tried removing it with a needle. That was painful!
Dec 23- Fluid around lung is worse and they insert a chest tube. WORST experience. I wasn't properly sedated and it was the most painful and stressful situation by far of this whole experience.
Dec 24- Had ultrasound of arm and abdomen.
Dec 25- Stitched last drain sight because it's been oozing. Had CT to check on lung.
Dec 26- I have gained 75 pounds of excess fluid so we use lasiks to hopefully bring fluid down.
Dec 27- Another day gaining strength and walking a little without the walker.
Dec 28- Mom went home to see dogs and have a short break. She needed it and deserved it! it was the only time she left my side for 3 weeks!
Dec 29-Rode bike in gym with PT, during my shower I noticed brown Carmel looking oozing coming from my incision. Informed Drs.
Dec 30- Drs removed 1/2 of my staples to release oozing fluid from my abdomen. Then began packing with gauze. Very painful.
Dec 31- CT shows fluid around spleen and I went for a procedure to drain more fluid with a needle. They didn't have to add another drain because fluid looked okay.
Jan 1- They removed the chest tube!!
Jan 7 I was released and got to go home! Shawn and Aaron picked us up. The first time I got to see my son for 3 weeks was the most incredible feeling. The look on his face was pure joy. It took another 2 1/2 months for my incision to close up from the open wounds as a result of the infection. I am so blessed to be here today. Everyday I wake up and thank god that I'm blessed with another day. I'm healthier than ever. I've lost over 125lbs since surgery! My labs are stable and I'm excited to have my first transplantiversay. Not a moment goes by that my heart doesn't hurt for the family of my donor. She is always on my mind and in my heart. I wouldn't be here today to be a mommy to my son if it wasn't for her decision to be an organ donor. She saved me. I pray daily that her family decide to contact me but I respect their decision. I do things now with a different outlook. I'm excited for the future but I really try to savor every moment of my life. Because of my organ donor I'm alive today. Bless her. Bless her family.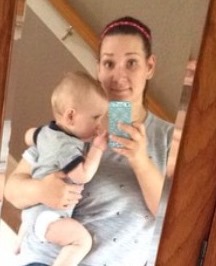 Comparta la historia