On August 9, 2020, I had a mountain bike accident that threw me over my handlebars and resulted in a broken clavicle, multiple rib fractures and a severely separated shoulder. About a month later I had arthroscopic laser surgery, using donor tissue, to repair the ruptured ligaments in my AC joint. To the best of my memory, the accident and subsequent surgery encapsulate the most painful month I have ever experienced in my lifetime.
In addition to the pain and trauma, I've also had to deal with the mental and emotional stress of the recovery process. I am an active person, and I have long enjoyed the benefits of an active lifestyle to keep me sane and happy. In addition to mountain biking (which I picked up only recently), I am a road cyclist with thousands of miles and several 100-mile rides under my belt. I've been backpacking for 10 years, and I have completed several multi-day trips, including a 223-mile solo thru-hike of the Ouachita Trail. I own a canoe, and I've paddled down many rivers and across many lakes, including a 5-day adventure with friends in the Border Water Canoe Area in northern Minnesota. Earlier this year, I turned 40 years old while paddling through Boquillas Canyon in Big Bend.
Aside from mountain biking, my newest activity has been running. I only started running about a year ago. Earlier this summer, I signed up for the Texas Distance Challenge, a virtual run challenge that takes place over 10 months for a total of 814 miles, the distance between El Paso and Texarkana. In only 6 weeks, I completed 218 of those miles before having my accident. I still plan on finishing before the April deadline. However, the challenge has multiplied now that I must complete 6 months of recovery, including several months to rehab my injured shoulder. For some time, I will not have the luxury of an active lifestyle to fall back on. I'll need to find other ways to deal with the stresses of life.
I understand that the road ahead will be long and difficult. But I also appreciate how fortunate I am to have an opportunity to recover. It could easily have been much worse. My helmet perhaps saved me from suffering serious brain trauma, spinal injury or even death. Likewise, the donor tissue I received will hopefully return mobility and function to my shoulder so that I can once again enjoy the activities that lend balance to my life.
After coming home from surgery and reading about the human tissue donation that I received, I've decided to join the Donate Life Texas organ, eye and tissue donor registry. Now that I understand the difference a donor can make, to save a life or to greatly improve one that has been disrupted by injury, I wish to celebrate the gift that was given to me by honoring the life of the individual who gave it to me and joining the millions of others who carry that tradition forward.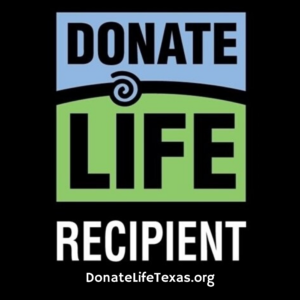 Share the story