HAGAN HILL, TWO-TIME LIVER TRANSPLANT RECIPIENT
LUKE – LIVING DONOR TO HAGAN's SECOND TRANSPLANT
Hagan has battled autoimmune hepatitis and primary sclerosing cholangitis – diseases that deteriorate the liver- most of her life.  By the age of 13, she was told her only hope to survive would be a liver transplant and was placed on the national transplant waiting list.  Two weeks after her 14th birthday on November 26, 2013, she received a liver from a heroic organ donor.
Hagan was excited to start high school and eager to enjoy life feeling energized and experiencing new things, all while dedicating much of her time as an advocate for donation. "It is amazing how your quality of life improves with a transplant, I was able to be an active student, do regular things like hanging out with friends, go on my first date and eventually graduate, I was so happy," said Hagan.
Hagan finished high school, went off to college at Texas A&M, found love and life was good until she began feeling sick again. The autoimmune disease returned and she developed ulcerative colitis and severe anemia. By Christmas of 2018 at only 19-years-old she was told she would need a second transplant.
"When you need a transplant it is hard to make plans and hope for the future because you simply do not know what will happen," said Hagan. Dismayed she returned home. The next few years family members and friends tested to see if they could provide a living donation for Hagan but no one was a match.
Then one day while her boyfriend was sharing Hagan's story, his best friend Luke chimed in and said he was interested in donating. He backed his words with action, was tested and was found to be the perfect match! On December 22, 2020, Luke donated a portion of his liver to Hagan.
"Donation is truly life-changing, the fact that someone is willing to place their life in potential danger just so you can have a chance to live is beyond words. Luke has given me hope to dream of a future."
For Luke it was a no brainer if he was a match, he was going to donate.
"I may have given the liver but really everyone was hands on deck – our family, friends, medical staff and the community – it was a magnificent thing to see. We were going to help Hagan and it was going to be cool", said Luke.
Since transplant, Hagan is feeling healthier than ever and ready to return to class. She has aspirations to work in community health and help others in need of transplants.
"Donation is a personal decision. For me, I will say if you have the opportunity to help someone, you might as well take it. If you can – Do!
Nearly 110,000 men, women and children are in need of a lifesaving organ transplant, 10,000 of whom are Texans. Unfortunately, 20 people die each day due to the drastic shortage of organ donors.
Sign up to save lives today, visit DonateLifeTexas.org/Simon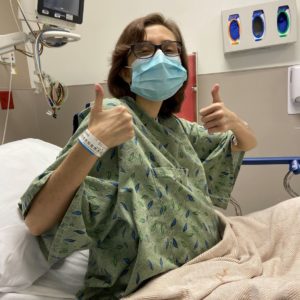 Share the story