Madelyn
The day I learned I was in need of a transplant changed my whole perspective on life. Thinking that I would live my entire life never having been in the hospital for any reason changed not only for me but the lives of people around me. Idiopathic Pulmonary Fibrosis are the three words the doctor said that changed my life. "What is it and what does this mean I asked the doctor?" His explanation was as foreign to me as the name of this disease and the accent he spoke with that would change my life. Not clearly understanding the words that just came out his mouth I would ask for a piece of paper and ask him to repeat himself and then I would ask him to spell it slowly. Needless to say, initially there was fear. Having already lost both of my parents to cancer ran thru my mind like the running of the bulls in Pamplona Spain. To be perfectly honest I didn't really remember anything the doctor would say to me after receiving such devastating news about my life. So I did like most educated people would do. I went home and immediately got on my computer and searched the internet for anything I could find out and learn about IPF. What I learned was that my life wasn't over and that there was a lot I could do and that I wasn't going rollover and play dead or let this run my life. Not only did I learn a lot about IPF, but I also found an awesome study program which I qualified for and got the opportunity to work with the best Pulmonologist in the world. Doctors Adaani Frost and Zeenat Safdar along with their awesome nurse Royanne Holy would make the biggest difference in saving my life and educating me about this disease. I started seeing them back in 2004 and It was December of 2011 when I would receive what would be my last serve of care from either of them. On my last visit, I really didn't think that this would be the last time I would see them professionally, but my visit to them confirmed my own thought and feeling of being placed on the transplant list.
I credit the Transplant games for helping me to recover and motivate me to get back on my feet. Needless to say my family was scared for me. Six months after my transplant I would go back into the hospital and would be there for almost 3 months. Having been an extraordinary healthy man my entire life, I didn't recognize the signs of any illness. I would continue to push myself and push myself until I couldn't function anymore. During my third trip to the hospital, I would this time lose the function of kidneys. While in the hospital my wife would show me the posters advertising the games for transplant recipients. My wife knew that this was for me because I had been athletic my entire life. Not only had I been athletic, but I was a high school English teacher and football and basketball coach. She knew that this would motive me to get well soon and get back on my feet. 2014 I would compete in my first games. How amazing was this for me. Like I said earlier, I would not allow this disease to control and run my life. So, three of the days of the transplant games I figured out how to take care of my dialysis treatment and still compete in the games. Yes, I was exhausted, but I need this, and I would win a medal. I competed in the 5k walk and with the support of my wife (Nicole) and a really good friend Andrea White, we would finish the walk. This would be the first time since my transplant that I would be on my feet this length of time and walk for more than 6 minutes. I would go on to compete in Texas Hold'em, individual bowling and coed bowling. I wanted to do a lot more, but I knew that I wasn't physically ready to more than what I did. While at this game I knew that I was going to compete in every Transplant game following. Not only was I going to compete in 2016 but I was going to bring my friend Van Tyler who is blind and a kidney recipient in 2012. As faith would have it, our transplants would occur exactly two days apart. Together we are already planning for the 2018 games as well as the 2019 World games when it comes to Texas. The best experience about the Transplant games is the new friends you will meet and to discover and learn that you are not the only one going through what you're going through. I also know that supporters get the opportunity to meet others who are dealing with what they are dealing with and build their own support group. Everyone benefits.
In preparation for the Transplant games, I would meet many people who were very supportive of not only me but of others. This group would embrace me like they had known me for my entire life. I was a very small and fragile man when I started preparing for the games. I knew that the only event I would be able to prepare for would be bowling. So members from Team Texas would start a bowling league prior to the games and I would join the league. I could hardly hold a 9lb bowling ball or let along have any form of a bowling athlete. What the league and the transplant games did was allow me to get out of my elements and meet other transplanted individuals. This was the best medicine anyone could receive. There was nothing the doctors could do, say, or give me that was better than being introduced to these people.
The summer of 2015 I would receive my second transplant. My daughter (Madelyn) would offer me her kidney. Like most parents, I would refuse the offer. I was content with the life I was living and was willing to wait for a donor. I can't speak for others but as a parent I didn't want to receive a kidney or any part from either of my children. I owe my life and everything to my daughter and to the donor family of my double lungs. It is because of them and God that I have my life back and am able to do just about anything I want. I hear others complain about the things that they are experiencing but I'm so thankful for what I have. Yes, I've had my moments when I in so much pain that I wanted things to go back to before the transplant. But God continued to give me the strength to make it and tell my story. My daughter is not only affecting my life but she is saving the life of a coworker of mines brother. My coworker approached me about my daughter and her health. At first I thought that he was just being nice but I could see that there was more to his question. Come to find out, his brother is on dialysis and is need of a transplant. He could be a donor but is very afraid of life after the transplant. I was so happy to give him the name and number of not only my daughter but the name and number of another lady I met who was a kidney donor. They both spoke with him about their life afterwards and reassured him that he will be ok and live a normal life. The both also told him that they would do it all over again without any hesitation.
Its stories like the story of my coworker that makes me very proud of the work I do on a daily basis. I have the best job in the world. As a school teacher it's amazing how much I'm able to motivate and inspire others on a daily basis with my life's story. It would begin before the first day of school at teacher orientation and continue on the first day of meeting my students through today. There are many coworkers who know my story and love to hear the story of my struggle. They will also want to know how I spent my summer.
People think that by being a school teacher all one does on a daily basis is teach, but teachers also counsel. There are so many days when I feel like a counselor. The one thing I can honestly say is that I have a story to tell that can one up most of my student's problems. Not only do I counsel my students but I have coworkers who will send students to me so that I can share my story. Today's students have so many issues to the degree they don't have a parent to turn to who is willing to listen or is even aware of their problem. I also share my story with my parents. Today's students have a number of health issues and my parents are so relieved to learn that I have experience with what their child is dealing with and that there is a light at the end of the tunnel. This year I met a parent whose husband is having some problems with his kidney and she was so surprised to learn that I had been on dialysis and that I had just had a transplant. It gave her and her husband hope. She was just so surprised to learn that I never let this disease control me and that I took control of my own life. I have so many stories like this to tell that I do it so often that I never think about it. I will attend my heart exchange board meeting and they will ask if there are any stories to share and I'm always speechless because at the moment I never think about the last story I told and how I made an impact on someone's life. I feel so comfortable with who I am that I never think about what I've experienced. One of my favorite novel to read and teach my students is "Frankenstein." "Frankenstein" allows me to talk more about transplants and even joke about how I'm Dr. Frankenstein's invention and even joke about how I'm now made up of recycled parts.
You know many of us have no idea of our role on earth. We know that God gave us to our parents as a gift but does one really know his or her own purpose of life. I have a number of friends who are now pastors in the church or serving the Lord in some other role in the church. I was feeling guilty because I was serving the Lord the way they were. I had no story like my friends and others like them. Now I know my role. My role was to be used to tell others how a healthy man can be stricken with a life threatening illness and through faith he can overcome this issue and live a productive life as a husband and father.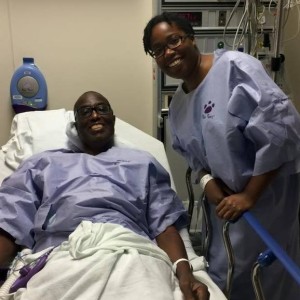 Comparta la historia