Dot was a vibrant pastor serving a church she loved when a disease left her struggling to breathe, and in desperate need of a partial lung transplant. A donor's gift gave her a second chance at life, and a new mission for it — to tell the world about the healing power and importance of organ, eye and tissue donation.
It could be said that Dot was born to serve. Coming from a family heritage steeped in faith, Dot followed in the footsteps of a long line of religious leaders to become a church pastor. At 36, she was fulfilling her dream to make a difference, when she began finding it almost impossible to breathe. Diagnosed with Idiopathic Pulmonary Fibrosis (IPF), a disease resulting in scarring of the lungs, Dot was placed on the transplant waiting list and reliant upon an oxygen tank to survive. After 18 months, she received the new left lung she needed from a generous donor who saved her life. Beginning with the first breath she took with her donor's lung, Dot found she was called to do even more to help others.
"I may be only one person, but there wasn't a mistake when I was entrusted with this gift," said Dot adding, "I was given a new purpose to make a difference."
Dot remains a pastor at her church and an active spiritual leader in her community, exuding passion and gratitude in all that she does. She also volunteers tirelessly sharing her personal transplant journey in order to support other IPF patients, honoring donors and donor families, giving hope to patients who are waiting, and inspiring hundreds of people to register as organ, eye and tissue donors along the way.
"Because of this transplant, I live," said Dot. "This gift has given me another day with my family, with my friends, with this world. I have been given time, and my passion is to tell everyone about my donor — my hero. Not a day goes by that I don't thank my donor and God for making that possible."
More about Dot:
Since her first breath with a new lung, Dot has never slowed down. Giving nearly 7,000 hours of volunteer service in the past 10 years to the following organizations: University Transplant Center, Texas Organ Sharing Alliance, Donate Life Texas, South Texas Blood & Tissue Bank, San Antonio Eye Bank, Pulmonary Fibrosis Foundation, Transplants for Children, Texas Kidney Foundation and Donate Life America.
In 2019, Dot was awarded the National Donate Life America Volunteer Service Award for her tireless efforts and commitment to increase the number of donated organs, eyes and tissue available to save and heal lives.
Video:  National Donor Sabbath with Pastor Dorothy Delarosa
2018 Donate Life Rose Parade Participant: Dot Delarosa, Float Rider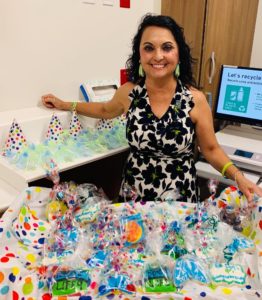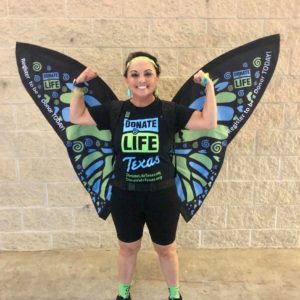 Share the story