In March of 2007, I had the first of many heart events when my heart started to race out of control at work. By the time I reached the emergency room of a local Dallas hospital, my heart rate was 185. My diagnosis was an enlarged heart (cardiomyopathy) and a fatal arrhythmia (ventricular tachycardia). The pumping capacity of my heart (ejection fraction) was only 35% instead of the normal 65-75%. No wonder I was so tired all the time! Sadly, I ignored the classic heart failure symptoms, thinking I was just out of shape or working too much. I was only 50 years old.
My medical treatment over the next 18 months included multiple medications, two defibrillator surgeries and four cardiac ablations. The defibrillators were implanted to monitor the arrhythmia, delivering a shock to my heart if needed. The ablations were done to try and treat the arrhythmia, which continually made my defibrillator 'fire' and shock my heart back into rhythm. Part of my treatment was in a Houston hospital, via care flight.
Despite excellent medical care and the prayers of many, my condition continued to decline. The pumping capacity of my heart was now only 20% and I was pretty much immobile. My cardiologist informed me that I was not going to survive without a heart transplant, so I was transferred to another Dallas hospital for evaluation. Thankfully, I was accepted and placed on the waiting list in October of 2008. I did not have much time left.
On the morning of November 7, 2008, we received a call that there was a heart for me! I was both relieved and sad at the same time. Happy because now I would have a second chance at life. I was sad for a yet unknown donor that had passed away, giving me life.
My donor, Catherine was only 23 and had not yet made a decision to donate her organs. Her mother and husband made that very difficult decision that would ultimately save my life. Catherine saved three other lives besides mine, by donating her lungs, liver and kidneys. Each year on the anniversary of my heart transplant, my husband and I place a dozen red roses on the altar of our church in her memory. We will always be eternally grateful for my precious gift of life.
I celebrated the 12th anniversary of my heart transplant last November and am doing great. Because of my donor hero, I am now a grandmother of two precious grandchildren! I am blessed to have been able to celebrate 12 more birthdays and wedding anniversaries with my beloved husband. I'm a musician, so I am enjoying playing oboe again for my church (recording right now because of Covid). Every moment of every day is a gift, and I try to live each day for both Catherine and me.
I am passionate about sharing my transplant journey with others and is just one of the ways I am giving back. Once the pandemic is over, I look forward to being able to do that again. It is my way of honoring my donor and her family for my second chance of living life to the fullest. Please consider becoming an organ donor!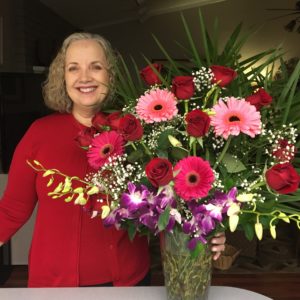 Share the story