My living donor story starts on 11/6/19. I was busy checking off my units at the fire station. I took a break, flipped through my phone for a second, and noticed a post from a friend about her father needing a liver transplant. I noticed we where the same blood type, but returned to my work. Less than five minutes later I received a text from my wife that included a screen shot from the post. After a couple of texts, we decided to get tested. She contacted the daughter (Kim) and got the information needed.
I began my testing the first week of December. Everything went smoothly and University Hospital in San Antonio was great throughout testing. I found out the following Tuesday, that I was indeed a match. Testing was tentatively scheduled for 1/7/20. My wife, Michelle, completed her testing that week and then found out she was also a match. It was ultimately decided that we would use mine because it was slightly larger.
We told our Kim (recipients daughter), they were very excited an grateful. She did inform us that they were keeping it a secret from her father, because he would refuse the transplant if it disrupted some ones life that they knew. While speaking with Kim's husband (Ryan) one day, I found out that my recipients name was Bubba. That hit me pretty hard, because that is what we called my grandfather, who died 8 years prior.
I wasn't very nervous prior to the surgery, it just seemed like something I had to do. The night before the surgery, we had an opportunity to meets Kim's sisters at our hotel. The morning of the surgery while sitting in the waiting room, we thought Bubba caught us. He was walking by and started up a conversation, then continued on to the bathroom.
The surgery went extremely well. I woke up in a little pain due to the epidural not working as well as it should have. Other medication routes helped with this. Less than 24 hours after the surgery while visiting with the recipients daughters after my first long walk, I was informed that one had to get back home to her children. It seemed like the perfect time to meet Bubba then.
The meeting was captured on video and can be seen on University Transplant Centers Facebook page. It was an emotional moment for all of us. As a firefighter, I had to take a jab at him for being a retired police officer. He remember the instant we met that he stopped and talked to us in the waiting room. The gig was up. He knew that his family kept it a secret from him, although it was for the best.
I visited Bubba daily. He continued to improve as well as myself. I was released five days later and he was released after eleven days. I had a friend stay with me for three days after getting home, after that I felt like I could handle things on my own. Bubba and I talk about once a week, we visited him the last weekend of January for his 69th birthday. We continue to talk, about once a week.
This experience has been life changing for me. It was easier than I expected. The first couple of weeks were like being at high altitude. I became short of breath very quickly, but there was little to no pain. I am 8 weeks post surgery and getting stronger every day. I started going back to the gym two weeks ago. The surgeon wanted me to wait the full 12 weeks before returning to work, due to the demands of my job. After 6 weeks I went back to light duty "desk work". I feel 100%, but I am taking it slow on the lifting.
I was lucky to have my wife and mother by my side for the five days I was hospitalized. Without them, it would have been tough. I had a steady stream of friends, family, and other guests stop by. If I could, I would do it every few years, that's how easy this process was for me. Home life is great, my wife has been fully supportive and has pushed me physically to return to my previous shape. I would encourage anyone thinking of donating to do it. Anyone can contact me and ask further questions. I am willing to do anything for this cause. I lost a portion of my liver, but I gained another family through this experience.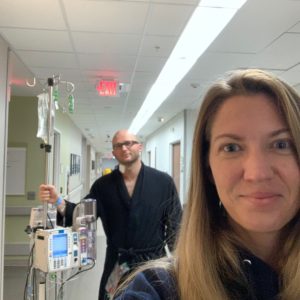 Comparta la historia